Recipe No.KR0823 2 types of German-made acrylic flower smartphone accessories
Summery◎These are two types of accessories that let you enjoy the look of this year around your smartphone with their clear texture and form.
"A" can be used as a smartphone strap, and "B" can be attached not only to smartphones but also to cool fans.
Cute and convenient to use♪。

*Smartphone strap A can be used for cases with rings, such as clear cases for iPhone case sizes and straps with rings.

If you are purchasing a case, please select "Smartphone Strap" from A-1 and "iPhone Case" from A-2.
| | |
| --- | --- |
| 参考価格 | About ¥3,450 |
| レベル | |
| サイズ | The apple is about 29.5cm, A monotone, about 32 centimeters, and B is about 19cm. |
| 使用工具 | Yatko (flat)、nipper、perforation, adhesive (see material for type) |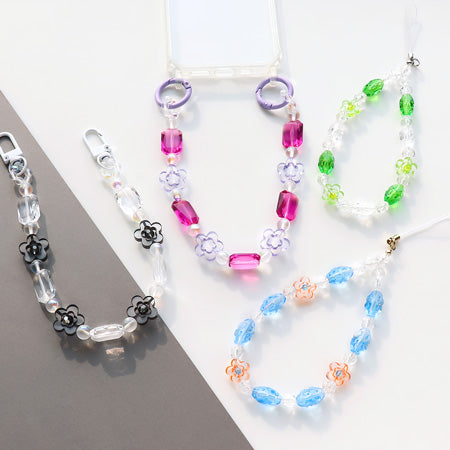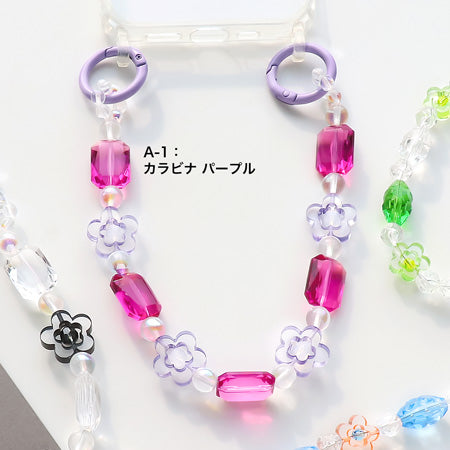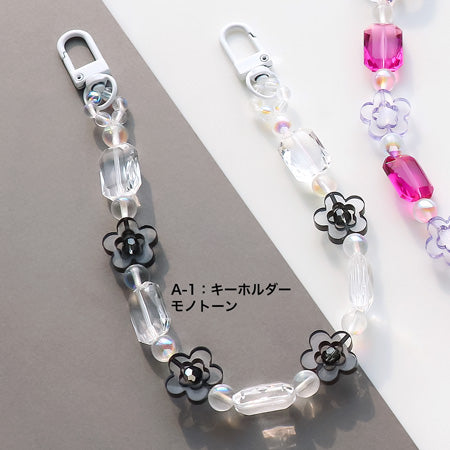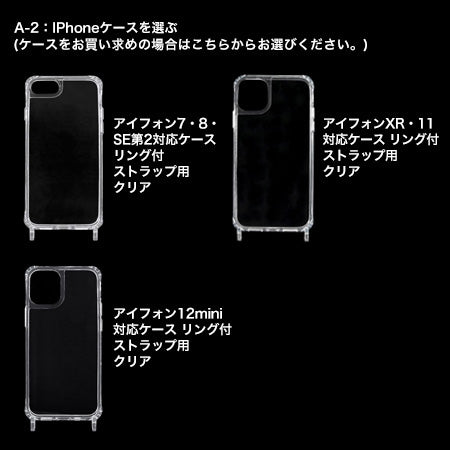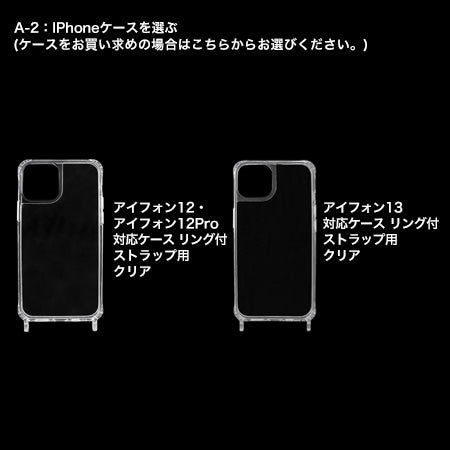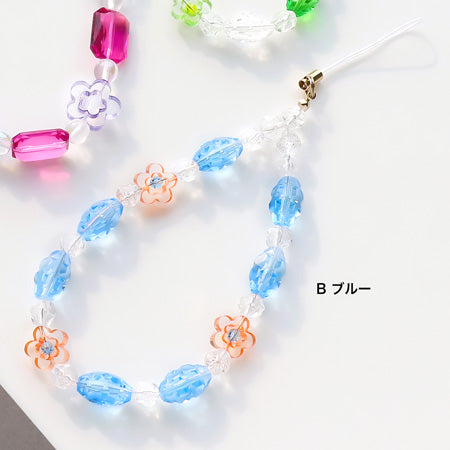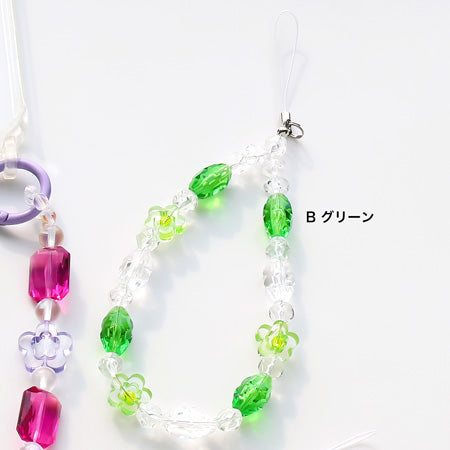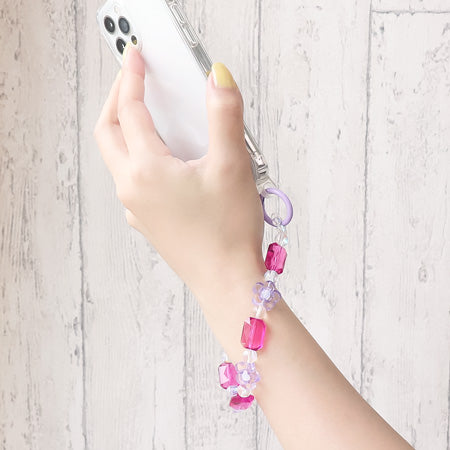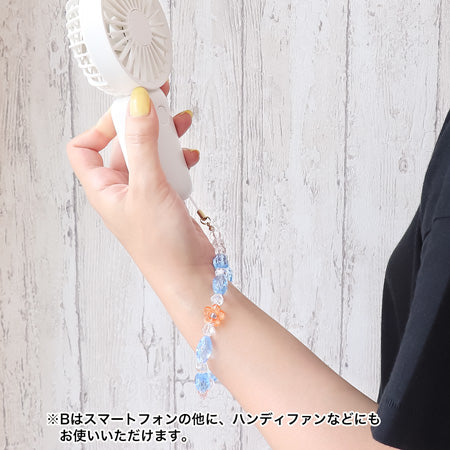 A-1: The Carabins Pull
商品番号/商品名
商品情報
在庫状況
使用個数
購入数
購入

| | |
| --- | --- |
| Size | 6mm |
| 入数 | Five. |
| 在庫状況 | 〇 |
| 使用個数 | Four |

〇
Four
1

| | |
| --- | --- |
| Size | 5mm |
| 入数 | 30 pieces |
| 在庫状況 | 〇 |
| 使用個数 | 12 pieces |

〇
12 pieces
1

| | |
| --- | --- |
| Size | 8mm |
| 入数 | 10 |
| 在庫状況 | 〇 |
| 使用個数 | 10 pieces |

〇
10 pieces
1

| | |
| --- | --- |
| Size | Approx. 18 × 13mm |
| 入数 | Two. |
| 在庫状況 | 〇 |
| 使用個数 | Five |

〇
Five
3

| | |
| --- | --- |
| size | approximately 17mm |
| 入数 | 1 piece |
| 在庫状況 | 〇 |
| 使用個数 | Four |

〇
Four
4

| | |
| --- | --- |
| size | 25mm |
| 入数 | 2 months |
| 在庫状況 | 〇 |
| 使用個数 | Two |

〇
Two
1

| | |
| --- | --- |
| size | No. 6 (0.40mm) |
| 入数 | 1 piece (20m) |
| 在庫状況 | 〇 |
| 使用個数 | 100 cm |

〇
100 cm
1

| | |
| --- | --- |
| size | - |
| 入数 | One (10g) |
| 在庫状況 | 〇 |
| 使用個数 | Proper amount |

〇
Proper amount
1
合計(材料費):円
A-1: The Carabins Pullの材料を一括でカートに追加できます
A-1: Key chain monotone
商品番号/商品名
商品情報
在庫状況
使用個数
購入数
購入

| | |
| --- | --- |
| size | 6mm |
| 入数 | 5 months |
| 在庫状況 | 〇 |
| 使用個数 | Four. |

〇
Four.
1

| | |
| --- | --- |
| Size | 5mm |
| 入数 | 30 pieces |
| 在庫状況 | 〇 |
| 使用個数 | 12. |

〇
12.
1

| | |
| --- | --- |
| Size | 8mm |
| 入数 | 10 |
| 在庫状況 | 〇 |
| 使用個数 | Ten. |

〇
Ten.
1

| | |
| --- | --- |
| size | About 18 × 13 mm |
| 入数 | 2 months |
| 在庫状況 | 〇 |
| 使用個数 | Five. |

〇
Five.
3

| | |
| --- | --- |
| size | Approximately 17mm |
| 入数 | One |
| 在庫状況 | 〇 |
| 使用個数 | Four. |

〇
Four.
4

| | |
| --- | --- |
| Size | Approximated H34 × W12.5mm |
| 入数 | Two |
| 在庫状況 | 〇 |
| 使用個数 | Two. |

〇
Two.
1

| | |
| --- | --- |
| size | No. 6 (0.40mm) |
| 入数 | 1 piece (20m) |
| 在庫状況 | 〇 |
| 使用個数 | 100 cm |

〇
100 cm
1

| | |
| --- | --- |
| size | - |
| 入数 | One (10g) |
| 在庫状況 | 〇 |
| 使用個数 | moderate amount |

〇
moderate amount
1
合計(材料費):円
A-1: Key chain monotoneの材料を一括でカートに追加できます
A-2: Choose an iPhone case
商品番号/商品名
商品情報
在庫状況
使用個数
購入数
購入

| | |
| --- | --- |
| size | - |
| 入数 | One. |
| 在庫状況 | △ |
| 使用個数 | 1個 |

△
1個
1

| | |
| --- | --- |
| Size | - |
| 入数 | 1 piece |
| 在庫状況 | 〇 |
| 使用個数 | 1個 |

〇
1個
1

| | |
| --- | --- |
| Size | - |
| 入数 | One. |
| 在庫状況 | 〇 |
| 使用個数 | 1個 |

〇
1個
1

| | |
| --- | --- |
| Size | - |
| 入数 | 1 piece |
| 在庫状況 | 〇 |
| 使用個数 | 1個 |

〇
1個
1

| | |
| --- | --- |
| size | - |
| 入数 | One. |
| 在庫状況 | △ |
| 使用個数 | 1個 |

△
1個
1

| | |
| --- | --- |
| size | - |
| 入数 | 1 piece |
| 在庫状況 | 〇 |
| 使用個数 | 1個 |

〇
1個
1
合計(材料費):円
A-2: Choose an iPhone caseの材料を一括でカートに追加できます
B blue
商品番号/商品名
商品情報
在庫状況
使用個数
購入数
購入

| | |
| --- | --- |
| size | 4mm |
| 入数 | 10. |
| 在庫状況 | 〇 |
| 使用個数 | Three. |

〇
Three.
1

| | |
| --- | --- |
| size | About 8 mm |
| 入数 | 4 months |
| 在庫状況 | 〇 |
| 使用個数 | Fourteen. |

〇
Fourteen.
4

| | |
| --- | --- |
| size | approximately 16 × 10 mm |
| 入数 | Two. |
| 在庫状況 | 〇 |
| 使用個数 | Seven. |

〇
Seven.
4

| | |
| --- | --- |
| size | About 13mm. |
| 入数 | 1 piece |
| 在庫状況 | 〇 |
| 使用個数 | Three. |

〇
Three.
3

| | |
| --- | --- |
| size | Inner diameter approximately 4mm |
| 入数 | 20 pieces |
| 在庫状況 | 〇 |
| 使用個数 | One. |

〇
One.
1

| | |
| --- | --- |
| size | Outer diameter 2mm |
| 入数 | 20 |
| 在庫状況 | 〇 |
| 使用個数 | One. |

〇
One.
1

| | |
| --- | --- |
| Size | Approximated 52mm |
| 入数 | 10 pieces |
| 在庫状況 | 〇 |
| 使用個数 | 1 |

〇
1
1

| | |
| --- | --- |
| Size | 0.36 mm |
| 入数 | 1 piece (10m) |
| 在庫状況 | 〇 |
| 使用個数 | 50cm |

〇
50cm
1
合計(材料費):円
B-Green
商品番号/商品名
商品情報
在庫状況
使用個数
購入数
購入

| | |
| --- | --- |
| Size | 4mm |
| 入数 | 10. |
| 在庫状況 | 〇 |
| 使用個数 | 3 |

〇
3
1

| | |
| --- | --- |
| size | About 8 mm |
| 入数 | 4 months |
| 在庫状況 | 〇 |
| 使用個数 | 14 |

〇
14
4

| | |
| --- | --- |
| size | About 16 × 10 mm |
| 入数 | Two. |
| 在庫状況 | 〇 |
| 使用個数 | 3 |

〇
3
2

| | |
| --- | --- |
| Size | Approximately 16×10mm |
| 入数 | 2 months |
| 在庫状況 | 〇 |
| 使用個数 | 4 |

〇
4
2

| | |
| --- | --- |
| size | Approximately 13mm |
| 入数 | 1 piece |
| 在庫状況 | 〇 |
| 使用個数 | 3 |

〇
3
3

| | |
| --- | --- |
| Size | Inner diameter approximately 4mm |
| 入数 | 20 |
| 在庫状況 | 〇 |
| 使用個数 | 1 |

〇
1
1

| | |
| --- | --- |
| size | Outer diameter 2mm |
| 入数 | 20 |
| 在庫状況 | 〇 |
| 使用個数 | 1 |

〇
1
1

| | |
| --- | --- |
| size | About 52 mm |
| 入数 | 10 pieces |
| 在庫状況 | 〇 |
| 使用個数 | 1 copy |

〇
1 copy
1

| | |
| --- | --- |
| Size | 0.36 mm |
| 入数 | 1 piece (10m) |
| 在庫状況 | 〇 |
| 使用個数 | 50cm |

〇
50cm
1
合計(材料費):円
「レシピを印刷」ボタンを押すとレシピ図と使用材料を1画面でご覧いただくことができます。
紙にプリントしたい場合は、こちらをクリックしてください。
レシピを印刷